You see them everywhere: on top of barns, equestrian centers, garages, and even pool houses. They are often subtle and beautiful, but they add that critical special touch to a long roofline. Most importantly, they serve a vital role in keeping your building bright and ventilated. They are the humble cupola.
As commonplace as cupolas may seem, discerning builders and barn-owners don't just sit down and pick one out of a catalog. There's more to creating the best cupola for your needs than matching the color of your building and pitch of your roof. Your cupola should be customized to your structure to appropriately enhance its beauty, but also to fit your functional needs. For that, you will need to consider the shape and style, the functionality, and the design of your cupola.
Bring Balance and Style to Your Barn or Building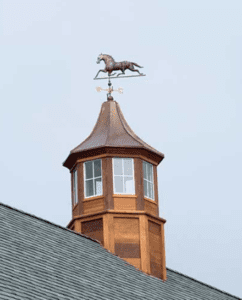 Today's cupolas come in all shapes and sizes. Selecting the best match for your building will depend on the architectural features of your building, as well as the length and pitch of your roof.
A well-proportioned cupola brings a sense of balance and symmetry to any roofline. In general, you will need one inch of cupola for every foot of your barn's roofline. This creates a scaled balance between your building size and your cupola. If you have a long roof ridge, you'll need to partner with a custom builder, like B&D Builders, to fabricate a cupola large enough to fit your barn or building.
Cupolas typically come in a square, hexagon, or octagon shape that is designed to complement your building's architectural features. Popular cupola designs include Contemporary, Georgian, Classical, Victorian, and Colonial. As custom builders, we work with our clients to fabricate cupolas to perfectly match the architectural style of your building so your cupola blends perfectly with your roofline.
Brighten, Lighten, and Ventilate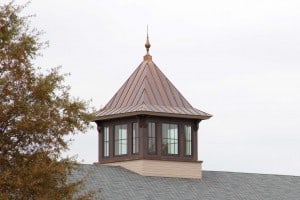 In rural architecture, cupolas were originally a necessary ventilation system for keeping livestock cool and dry. Warm, humid – and most commonly – smelly air rises to the barn's high ceilings. A cupola's open vents (louvers) allow the air to escape. Cupolas would also allow natural light to brighten the dark reaches of a barn's vaulted ceiling.
Today, cupolas placed on barns, homes, and garages can be functional, decorative, or both. Experienced cupola builders know meeting functionality requirements are just as important as choosing the right design. When building a cupola, expect to be asked questions to determine your needs, such as the following:
Does your building have enough ventilation to keep your horses happy?
Are you storing hay in a loft, which needs to be kept dry?
How much additional natural light would you and your horses appreciate?
Are there times of the day when you get too much light or air flow?
Will you be able to maintain any special features added to your cupola, such as lighting or electronic controls?
One of the advantages of building a completely customized cupola is your ability to take advantage of new technology. For instance, remote control systems can be installed to easily open and close cupola windows and louvers. You can add shades to windows for more light control in the day. You can also add light fixtures to make a stunning light display at night.
Enhance Your Barn's Appeal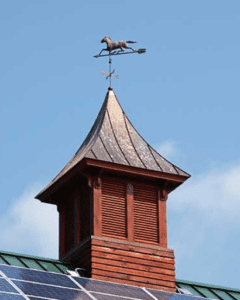 When working with a custom builder to create your cupola, you can customize each of the cupola's three sections: the unit base, windows or louvers, and the top or roof. With B&D Builders, you'll be able to select from a wide assortment of materials, including multiple wood species, siding, and copper. We are able to fabricate both popular and lesser-known roof designs, such as the inverted curve of the Victorian "Witch's Hat" or the eye-catching standing seam on a copper roof. Add flair to your design with a beautiful final or weathervane featuring your favorite hobby.
However, we take cupola design a step further. We recognize a cupola's unique ability to enhance the beauty of your barn's interior design as well. In addition to lighting considerations, we walk our clients through selecting interior design elements, such as adding raised panels arranged in an artful way. We know the finer details and evidence of craftsmanship is what will set your barn apart.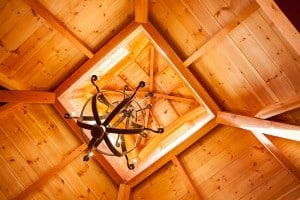 We work closely with our clients to allow their creative expression and personal taste to shine through, even when adding something as simple as a cupola.
Don't miss your chance to add a beautiful focal point to your roofline and creative expression to your barn. Allow B&D Builders to walk you through your options in adding a custom cupola to your barn, building, or garage by contacting us today.