Joseph Mackin, Jr., Co-Founder & President
Doug Mancuso, Project Architect
At B&D Builders, we enjoy collaborating with architects and building partnerships. It's satisfying when everyone brings their different strengths and perspectives to the table to achieve a common goal. Recently, one of our long-standing partners, Period Architecture, sat down and answered a few questions about the process of working with us, as well as a recent project we completed together.
Part I: Period Architecture & B&D Builders
Tell us a little bit about Period Architecture.

We are a medium sized architecture firm with offices in Malvern and Doylestown, Pennsylvania, who just celebrated our 10th year in business. We specialize in residential projects of various styles, scales, and levels of complexity.
Period Architecture honors classic architectural traditions while remaining historically sensitive. We trust B&D to know what is salvageable and where reclaimed makes a difference. We trust the team to make the design come together while preserving and celebrating what the structure meant in its past life.
How did you meet B&D Builders?

We've worked with B&D from the beginning. We started by helping them with certain projects and the relationship has really grown into a wonderful partnership. We refer work to one another because we enjoy working together so much.
What was your first impression of them?
We were very impressed with their company and ability, and we still feel that way. They are extremely hands-on and in tune with the finished product. Also, they're just good people and a pleasure to work with, really the whole package.
Why do you choose to continue to partner with B&D Builders?

We pull them into projects that are timber frame structures or somehow related to a barn appearance in a very broad way. We like structures that evoke feelings of history and natural materials, rustic structures that are a good fit but also provide modern amenities.
We push the design to the point where it's not just doing one thing. It usually involves a lot of other functionality, whether it's living space or other kinds of useful recreation spaces, but with the traditional, old-feeling structure.
I'm amazed at how well they travel and how well the product turns out, even if it's five states away. We have full faith in them, regardless of where the project is located. For instance, we worked them on a project in Nappanee, Indiana, that turned out beautifully.
For the bulk of the design and construction process, they don't rely on too many subcontractors and have a good level of coordination among their sister companies Mid-Atlantic Steel Fabrication, Mid-Atlantic Timberframes, Vintage Millwork & Restoration, and Vintage Wood & Forged Iron. They make it easy to make selections and will build full-scale models if need be. They can come onto a project and figure out the best way to salvage and reuse certain sections of the structure and bring reclaimed wood into the picture to match. What's wonderful is there's just no fuss about any of it.
What are the most important aspects of your relationship with B&D?
Respect and communication. We are constantly asking questions of one another because there is no one way to do something. We trust their expertise and they trust us to provide ours.
When we design a project, we model it three-dimensionally, share it with B&D, and then they add their information to it to get the full picture. There's a lot of back and forth that ensues. We work well together and have the same goal: we want the project to turn out well and the homeowner to be satisfied with their experience and product.
There's a lot that happens behind the scenes. At the end of the day, it all boils down to a certain level of trust that you need to have in who you're working with. We have complete trust when we're working with B&D.

Part II: Party Barn, Chester Springs, PA
B&D Builders and Period Architecture collaborated on a project to convert a barn being used for storage to one that added recreation and living space to the client's property. The barn, built in 1873, had once been used for dairy farming, but the owner had a new vision for it. He wanted to use the space for gatherings with friends and family, as well as add a guest suite for them to stay over.
The barn now retains its old-world charm, with plenty of wood, natural stone, and custom hardware, but it also boasts modern amenities such as heated floors, a pool table, and a funky bar. There's also a full kitchen, several seating areas and fireplaces, and oversized windows that take advantage of incredible views, making this party barn an inviting place to while away some time.
How did the Party Barn project get started?
Doug worked for the homeowner back in 2008 on his main house, designing an addition and renovation for the historic home. In the fall of 2019, the homeowner decided to pull the trigger and renovate his barn. Right out of the gate, we knew that it was a perfect project for B&D, and they didn't disappoint.
B&D was recommended for their capabilities, and with their sister companies, it was like one-stop shopping. B&D's approach is different, with their timber frame sister company and iron shop. They are unique in that they can offer a lot in one place — railings, windows, doors, ironwork, et cetera.
What was the scope of the project?
It was an old dairy barn being used for storage. The owner had undergone a big renovation to his house a couple years earlier, and he had stored a lot of the materials in there for it. That's really all it was doing. Now it is a party barn and includes a guest suite for people staying with them for an extended period of time. The goal was to have the barn completed in time for a family Christmas party, and we were able to meet that just in the nick of time.
Are there any particularly interesting facts about the structure itself?
The barn was in really good shape, relatively speaking, but it still needed to be repaired, and certain pieces needed to be replaced. B&D always does a great job of matching what is there and making it fit. When it's done, nothing new stands out. Their ability to find or mill the material and then craft it to put it together, it just makes it very believable when it's done — to the point where if I walked in, I'm not even sure I would be able to figure out what is new and what was already there.
B&D suggested pulling up the original flooring in the main level, de-nailling it, milling it, and reinstalling it back with a proper subfloor. Although time consuming, the client loved the idea of salvaging what could be reused. In addition to the flooring, the project involved reframing a hayloft shed at the back of the structure. The board-and-batten siding was reused in different areas of the project.
How about design elements?
When you're working in an old structure like this, you have to be very careful to balance form and function. All the new modern amenities — a bar, bathrooms, a huge fireplace and chimney — they didn't exist. We needed to make it feel like they belonged. There's a lot to consider when we go through the design process and then execute it in a way that it's all beautifully built.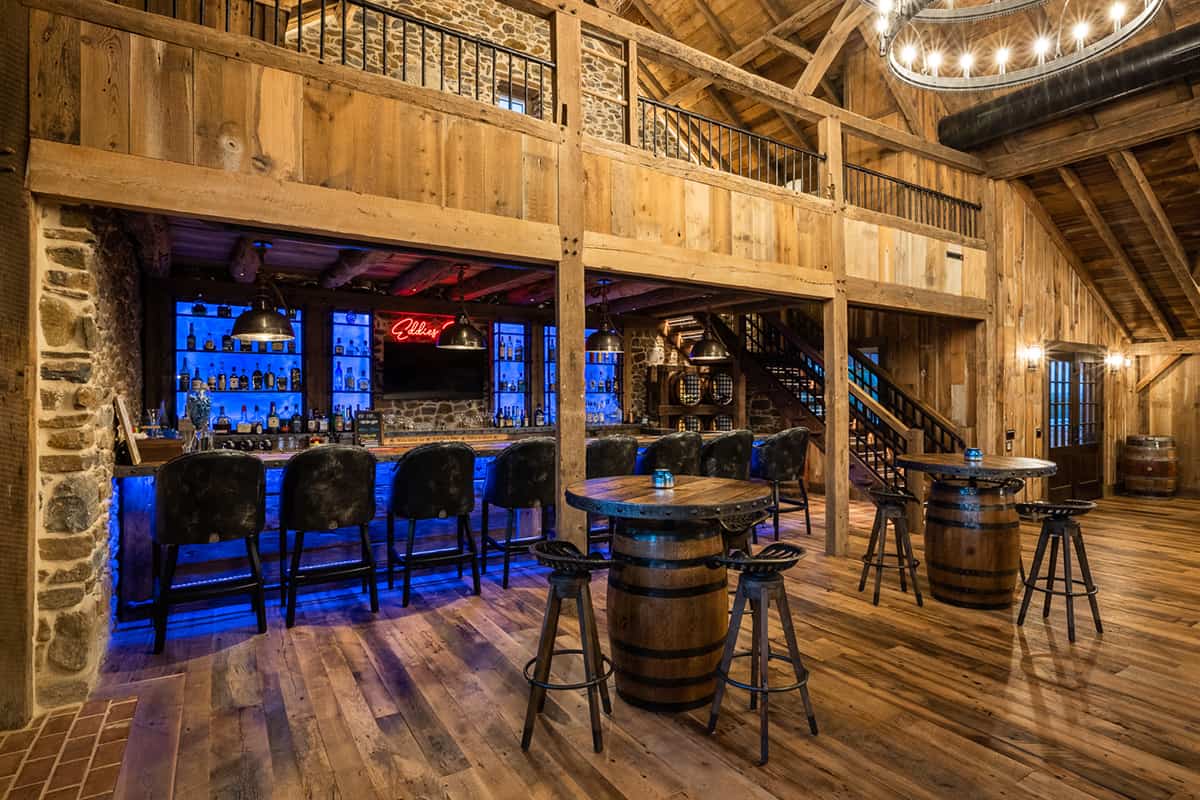 The bar is called Eddie's Bar, named after the homeowner's father who was a military man and would tell USO stories. A commercial bar company installed the modular system of sinks and soda lines, and B&D made the bar back and wood shelves and did the recladding.
Click here to see photos of the Chester Springs Party Barn project.
Interested in working with B&D Builders? Contact us today!