B&D Builders' stunning facility is located in the heart of Lancaster County and is fully equipped to help create, collaborate, and execute any custom barn project you have in mind. Built to also serve as a showroom, the facility is designed to showcase B&D's craft and inspire clients who are ready to build. As you tour our headquarters you not only experience manufacturing process in action, but also various design and handcraftsmanship examples intentionally built into our building.
Home to sister companies Vintage Home and Millwork and Mid-Atlantic Timberframes, our campus allows us to engage and enhance the experience for our clients. From the initial concept to the construction of materials, everything can be done on our site during the barn building process.
B&D headquarters is furnished to handle any size project on-site. With an in-house millwork shop, timber shop, CNC laser, antique four-sided planer, and press brake we are able to:
Fully customize the design to the standards of our clients
Perform all of the joineries for our projects
Create custom hand-forged hardware such as antique hammered door pulls, strap hinges, track and trolley hardware, railings, and locks
Design, engineer, and fabricate 2.25" thick custom doors using natural or reclaimed wood, built for durability
Build elegant timber trusses that allow for functional timber frame structures, and much more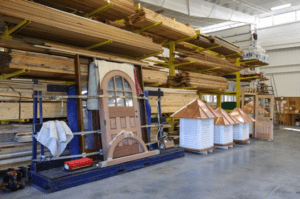 All details, including cupolas, stairs, doors, and window frames are built on-site.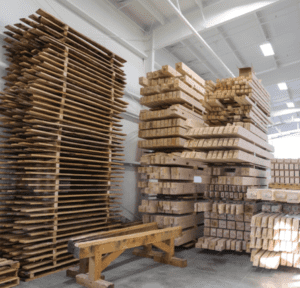 Every piece of timber is carefully cut using our CNC laser or by hand to ensure precision.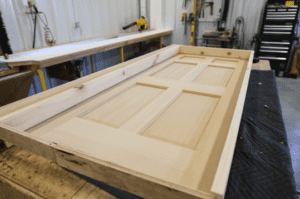 Our high-quality custom doors are engineered for durability designed with a hardwood core and side stiles.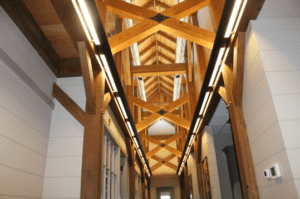 The stunning, unique trusses can be found throughout the B&D facility.
Take a look into the B&D facility through our virtual tour and experience the quality of work put into each detail. These elements reflect the expert craftsmanship that you can expect in your custom barn, home, or door. To learn more about your options or to start designing your project, give us a call at 717.687.0292 or Contact Us.