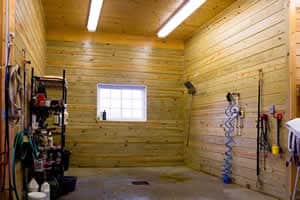 Designing a wash stall for your barn doesn't need to be a stressful experience. Thoughtful pre-planning will ensure your wash stall is built for your convenience and your horses' comfort in mind.
Wash Stall Considerations:
Location – Keep your wash stall within convenient access to your animals and make sure to keep it away from areas that don't mix well with water and moisture. Tack and feed rooms should be a good distance away from the wash location or well sealed to prevent moisture intrusion into the feed room.
Flooring ­– We recommend using rubber pavers or mats. Pavers deliver a better overall look, but are more difficult to clean and more expensive than rubber mats.
Size Matters – You'll want to be sure to design a space that entails a comfortable amount of room for you and your animals. Because it's important not to oversize your wash stall, B&D recommends 10' x 12'.
Water ­– If you're in a cooler climate or an area that experiences extremely cold winters, it's important to have a frost-free setup installed for water distribution. If you're considering a heated water option for your wash stall discuss how you'll heat the water and safely enclose the electrical wiring or gas pipe required. Make sure the water temperature controls are in the wash stall and not in an adjoining room.
Drainage – The grade of your property can work to your advantage when moving drainage away from your foundation, as you don't want to build your washroom in an area that will create a swamp around your facility. With the West Nile virus becoming more prevalent every year it is necessary to control mosquitoes more so than ever.
Storage – Eliminating clutter in this area will reduce potential for accidents and injuries to animals and their handlers. Neat little cubby holes create great storage and make for a tidy looking wash stall.
Tie Posts – Strong, rust proof tie posts to secure your horses during washing is a necessity. As an option, consider our in-house fabricated heavy rings secured to your walls.
In addition to our recommendations, we invite you to view our project gallery. There you'll find, among others, photos of custom wash stalls built by our expert team. For those interested in discussing building a custom horse barn, please visit our contact page.